【China Daily】'One country, two systems' key to HK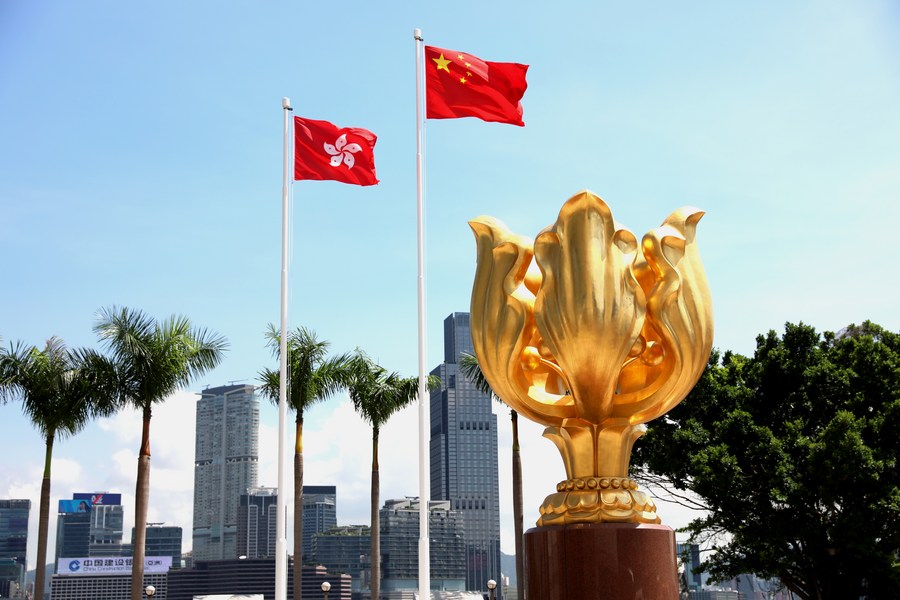 Development is at the core while Hong Kong moves forward with the "one country, two systems" principle, experts say.
July 1 will mark the 25th anniversary of Hong Kong's return to the motherland, which was also historic in the adoption of the "one country, two systems" principle, ensuring that Hong Kong exercises a high degree of autonomy while preserving its own economic, social and common law systems.
On Saturday, the Chinese Academy of Social Sciences held an online symposium focusing on the achievements, experiences and prospects of the practice of "one country, two systems". Experts and scholars from the academy and other academic institutions, including Peking University and Tsinghua University in Beijing and Sun Yat-sen University in Guangdong province, participated in the event.
Wang Linggui, deputy director of the Hong Kong and Macao Affairs Office of the State Council, said in his opening remarks that "one country, two systems" is a great innovation of socialism with Chinese characteristics and that it contributed a Chinese solution to global development.
Chen Xinxin, a professor specializing in Taiwan, Hong Kong and Macao Law at the Chinese Academy of Social Sciences, said one important achievement in the past 25 years is that China has established a deeper understanding of Hong Kong's strategic functions in the development of the entire country.
When "one country, two systems" was proposed 25 years ago, it played a key role in Hong Kong acting as a bridge between China with a socialist system and developed countries with a capitalist system. The bottom line of this design was to give Hong Kong maximum freedom as long as it did not affect China's sovereignty and territorial integrity, Chen said.
In the past two years, Hong Kong's social security problems have been successfully solved, and the next priority falls on development.
Wang Zhenmin, a professor of law at Tsinghua University's School of Law, said nearly one-fourth of Hong Kong's population is living under the poverty level it has set of HK$4,400 per month last year. Xi Junjian, director of the Hong Kong and Macao Research Institute, a subsidiary of the Hong Kong and Macao Affairs Office of the State Council, said some other deep-rooted problems, such as structural unemployment, the housing crisis and widening wealth gap, are also some important factors affecting the general stability.
Li Huan, deputy director of the Institute of Hong Kong and Macao Studies, of the China Institutes of Contemporary International Relations, said the future development of "one country, two systems "requires more work in terms of the guidance of the central government, good local governance and connections to the world.
With the new leader John Lee Ka-chiu elected earlier this month, the economy and people's livelihood, especially housing and wealth inequality, should be the most important areas that the new administration needs to tackle with first.
"Hong Kong is still the most open and internationalized city in China. We should adhere to reform, innovation and openness and believe that Hong Kong's role as the bridge between China and the West will have more room to play in the future," he said. "Therefore, while further consolidating national security, it is also necessary to put development on the more urgent agenda," Xi said, adding that it serves as the sociopolitical foundation for the steady progress of "one country, two systems".