【China Daily】Workers strike across India for labor rights, better pay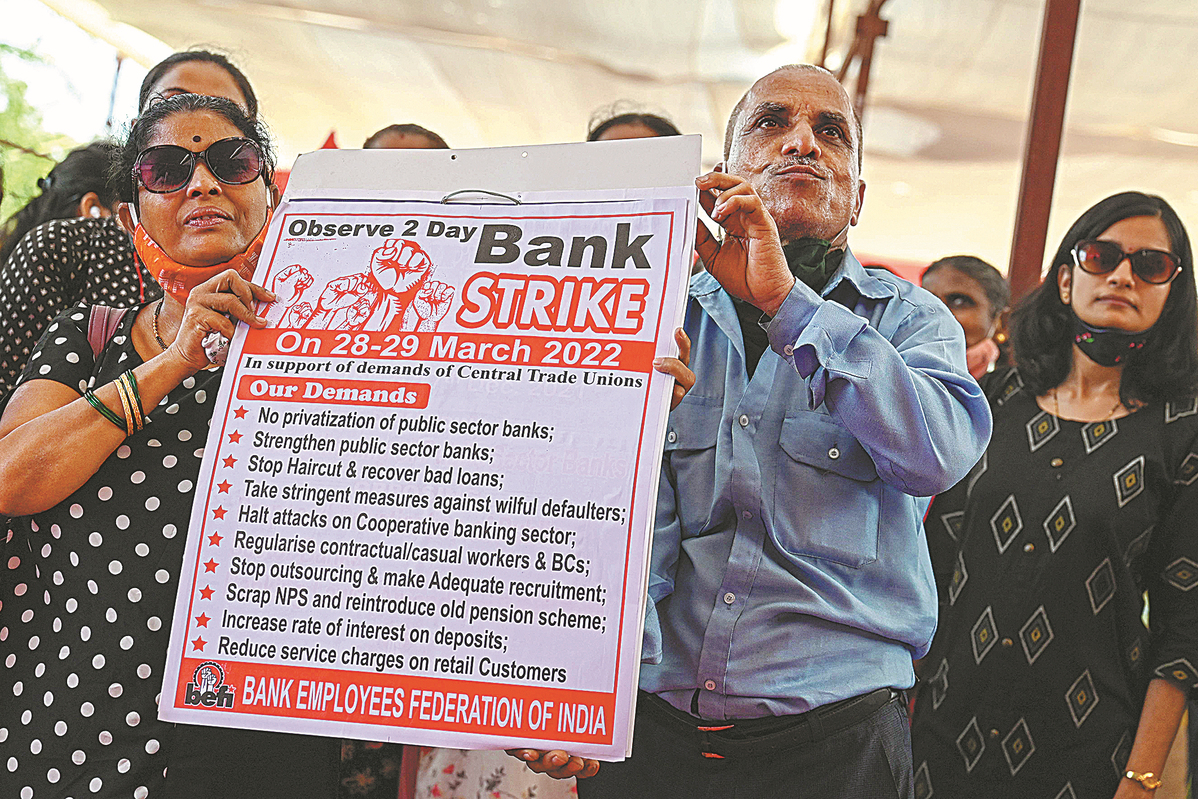 NEW DELHI-Millions of workers began a nationwide two-day strike across India on Monday to express their anger at the government's economic policies and press their demands for improved rights for industrial workers, employees and farmers.
Hundreds of workers marched with the red flags of the labor unions and chanted slogans in the capital on Tuesday.
About a dozen labor unions that organized the strike want the government to provide universal social security coverage for workers in the vast unorganized sector, hike the minimum wage under a flagship employment guarantee program and stop the privatization of public sector banks.
Strikers are also demanding that the government halt plans to sell state assets.
Bank unions are protesting against the government's move to privatize two public sector banks as announced in this year's general budget. They are also demanding an increase in the interest rate on deposits and a reduction in service charges.
Banking services were partially impacted as employees at many public sector banks choose not to report for duty.
Prime Minister Narendra Modi's government said privatizing some state-owned banks would overhaul the banking industry and that asset sales would help raise money to spur economic growth.
The two-day strike was felt nationwide, and essential services related to banking, transportation, railways and electricity were impacted in several states.
Reports pouring in from Kerala, Andhra Pradesh and West Bengal said trade union activists took to the streets holding banners in support of the call.
The All India Trade Union Congress, one of the country's largest trade unions, said it expected more than 200 million formal and informal workers to join the strike.
Essential services related to banking, transportation, railways and electricity were expected to be impacted in several states. A number of public sector banks, including India's largest lender State Bank of India, said banking services may be affected because many employees were expected to join the strike.
Modi's government grappled last year with huge farmer protests demanding the repeal of new agriculture laws it had billed as necessary reforms.
On Tuesday, fuel prices in India increased again for the seventh time in the last eight days, Xinhua reported.
Fuel rates were held steady for over four months in the country despite the spike in crude oil prices. The rate revision had ended on March 22. Critics said the rates were kept on hold due to the local elections in Uttar Pradesh, Punjab, Uttarakhand, Goa and Manipur.
On Monday, opposition lawmakers demanded a rollback in the hike in prices of fuel and cooking gas, seeking a statement from Modi in the parliament.