【China Daily】China's relaxed COVID curbs gain plaudits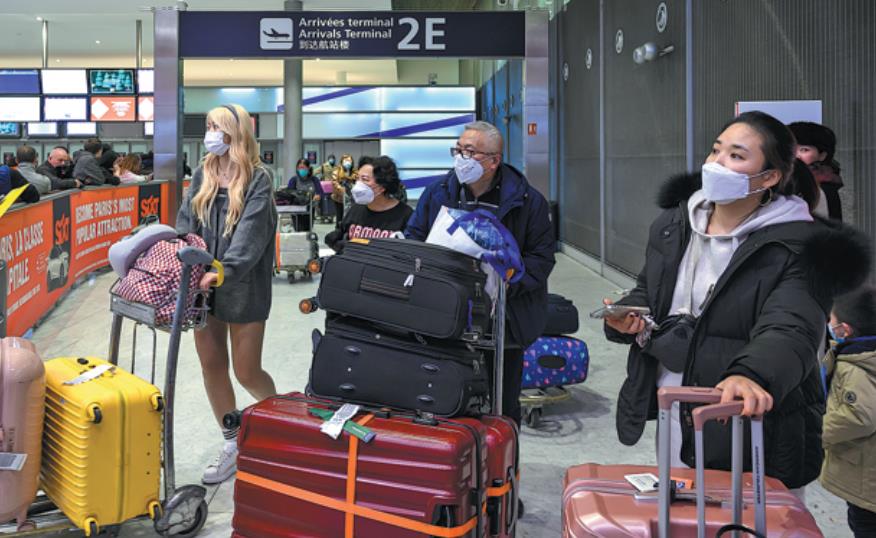 UK firms celebrate return to normal as businesses expect to land a windfall

It was just days after Christmas when Ian Zhu learned about the news of China changing its approach to the way it tackles COVID-19, including scrapping quarantine for international arrivals from Jan 8, and Zhu knew he should start looking for flight tickets.
"We've waited for this day for a long time," said Zhu, managing director of Tou Ying Ltd, a consultancy in London serving UK-China cross-border business.
"My clients all want to go to China to see Chinese partners in person because they've been communicating online for such a long time. There was one client who has signed a memorandum of understanding with a Chinese company online recently, and they want to throw a celebration party in China."
Zhu said he has been checking flight tickets in March for them.
"Online celebrations just won't get that kind of good atmosphere."
However, before Zhu's UK clients can set out for their long overdue China trips, he has been busy with arrangements for several Chinese business groups that will visit the United Kingdom in the coming weeks. Some of his Chinese clients want to hold business roadshows, some are coming to attract foreign investment, and some aim to open up a branch in the UK. "Face-to-face communication is very important for doing business, which clears misunderstanding and builds trust, and we would say the business communities in both the UK and China cannot wait to meet each other in person."
Charlie Beamish, chief executive of Beamish International, which provides Scottish whisky services, was as optimistic as Zhu is about the prospects. "A lot of our clients are based in major cities in China," said Beamish, a frequent visitor to China before the pandemic. "The great frustration with COVID is that we've not been able to visit clients and meet them face to face. Now that China has reopened we're very excited, and hopefully, we'll be there in April or May and visit cities like Beijing, Shanghai, Guangzhou and Shenzhen this year."
Beamish said he expects an influx of Chinese clients visiting distilleries in Scotland.
Many UK companies, including his, outsource some of their business to China, he said, and the previous COVID-19 measures that affected manufacturers in China affected them as well.
"The UK was expecting a sustained amount of business coming through from China. What the lockdown proved was that the UK actually does rely on China."
Keith Bennett, deputy chairman of the 48 Group Club in the UK, said: "China's lifting of quarantine restrictions for inbound travelers will undoubtedly provide a major and much-needed boost to the global economy, not least as China is the world's largest trading nation.
"Already, a couple of months ago, the head of Emirates airline predicted that there would be a bonanza of demand for seats on flights to China once restrictions were lifted. This reflected the strong demand and appetite from the international business community."
In a news conference organized by the Chinese embassy in London on Friday, Minister Counselor Bi Haibo said that as the COVID-19 situation in China continues to improve, the effects of policies to stabilize economic growth continue to emerge.
"Beijing and other Chinese cities that have passed the peak of COVID are once again showing vitality. Resumption of work and production is gathering pace. The number of cars on the road is growing.
"The exchange of Chinese and foreign personnel becomes easier, China's long-subdued consumer demand will be released, and investor confidence will be boosted. This is good news not just for China but the entire global economy. Many economic and financial institutes and experts have predicted that China's economy will rebound strongly."
Educational exchanges
Changes to COVID-19 control and prevention measures have been well received not only by business people, but also by those involved in international cultural and educational exchanges.
Theresa Booth, joint chief executive of Chopsticks Club, said: "The loosening of restrictions will have benefits to all our Chopsticks Club members, particularly our Chinese members who can travel again to visit friends and relatives, especially those with elderly relatives in China for whom the three years of separation has been a huge worry."
The club is an independent China-UK professionals' membership network that comprises 4,000 professionals working throughout China and the UK, which initiated the Engage with China educational charity that promotes China literacy in UK schools. "From an Engage with China perspective, it means we may be able to restart our summer school programs for Chinese students visiting the UK, and we look forward to UK schools resuming their exchange programs with China," Booth said.
In outbound tourism, a surge in inquiries for flight tickets and reservations for hotels has been expected by industry insiders.
Andrew Xu, chief executive of Club Med China and executive president of Fosun Tourism Group, said the group has had an increase in reservations for its ski resort in Hokkaido, Japan, and island resorts in Southeast Asian countries.
"Even before the quarantine-free policy took effect this Sunday, we have had reservation advances of more than 1 million yuan ($146,000) a week for our outbound tourism products for the past three consecutive weeks."
The resumption of outbound tourism will be gradual but will surge in summer, he said.
There is also a growing appetite for inbound tourists to Chinese cities such as Lijiang, Yunnan province, Xu said, and the company has been marketing destinations in China in overseas markets.
"The number of domestic flights is on the rise," Bi said. "Many countries can't wait to welcome Chinese visitors, and many people in the UK are looking forward to the realization of their China tour."
xingyi@chinadaily.com.cn