【China Daily】Donald Trump refuses to testify in New York deposition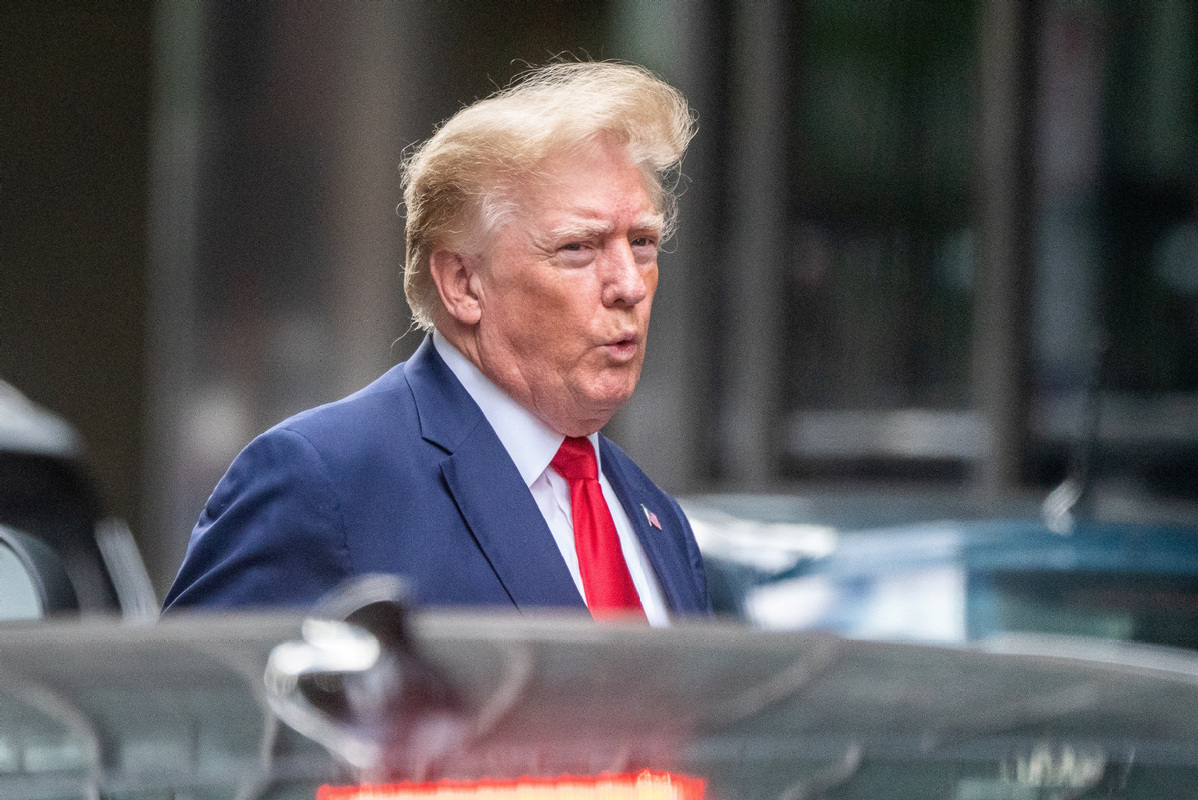 Donald Trump declined to answer questions by invoking his Fifth Amendment right against self-incrimination under oath at a deposition on Wednesday in an investigation into his business practices by the New York attorney general.
The former president arrived at the office of Attorney General Letitia James in Manhattan at 9 am. He left after six hours at around 3:20 pm, driven away in a black SUV, past cheering and jeering crowds.
An hour into the deposition, Trump's office released a statement that struck a defiant tone saying that he "declined to answer the questions under the rights and privileges afforded to every citizen under the United States Constitution".
"I once asked, 'If you're innocent, why are you taking the Fifth Amendment?'" the statement added. "Now I know the answer to that question. When your family, your company, and all the people in your orbit have become the targets of an unfounded politically motivated Witch Hunt supported by lawyers, prosecutors and the Fake News Media, you have no choice."
Trump's appearance in New York City, his former state of residence, comes after the FBI searched his primary home, the palatial Mar-a-Lago estate in Palm Beach, Florida, on Monday. That separate investigation is looking into whether or not Trump took classified documents from the White House.
He said the "raid" was because he was under "attack by Radical Left Democrats who desperately don't want me to run for President in 2024." It has rallied his supporters, fellow Republican politicians and the right-wing media.
James' office has been investigating Trump's company since 2019. She is probing whether or not The Trump Organization inflated the value of his various businesses including skyscrapers, hotels and golf clubs to lenders and tax authorities. In May, James' office said it had nearly completed the investigation.
In court papers, James alleged that her office had found "significant" evidence that The Trump Organization had "used fraudulent or misleading asset valuations to obtain a host of economic benefits, including loans, insurance coverage, and tax deductions".
Before his appearance at the deposition, Trump took to his own social media platform Truth Social and wrote: "My great company and myself, are being attacked from all sides. Banana Republic!"
The New York investigation into his business is civil, which means that the attorney general, a Democrat, cannot file criminal charges against Trump or his business.
Trump is facing a slew of other investigations probing his businesses; the Jan 6 attack on the Capitol and his efforts to overturn the 2020 presidential elections.
The Manhattan District Attorney's office is conducting its own criminal investigation into whether or not Trump inflated the value of his businesses.
Legally, this means that he had to be careful what he said to the attorney general as it could be used against him if James sues.
If the attorney general finds wrongdoing, Trump could face a lawsuit, fine, or ban on running some businesses.
This week, Trump hinted that he may run in the 2024 presidential race. He released a slick four-minute-long campaign-style video on his social media site on Tuesday that teased "the best is yet to come". The footage mostly showed Trump at a rally in Alaska last month.
Republican US Representative Jim Banks, one of nearly a dozen members of the House Republican Study Committee who met Trump in Florida this week said that the former president had made up his mind to run again.
"He said we are going to like his decision, and it is only a matter of time before he will make that decision known," Banks told Fox News.
Trump's silence in the New York probe contrasts with his prior statements about the Fifth Amendment.
In the past, he has blasted anyone who invoked the Fifth Amendment in cases, including rival Hillary Clinton during the 2016 presidential race.
He once said at a 2016 rally: "You see the mob take the Fifth" and "If you're innocent, why are you taking the Fifth Amendment?"
Two of Trump's adult children, Donald Trump Jr and Ivanka, testified in the case recently according to The Associated Press. Eric Trump testified in 2020. He invoked the Fifth Amendment 500 times.
Trump has maintained his innocence. But the probe led to his finance head Allen Weisselberg facing criminal charges along with The Trump Organization.
Trump's appearance at the deposition comes after a long legal fight. In January, Trump asked a judge to strike down the attorney general's subpoena requesting that he testify and hand over documents.
Judge Arthur Engoron said that James had a right to ask Trump to testify. The former president was held in contempt of court and forced to pay a $110,000 fine.
http://www.chinadaily.com.cn/a/202208/11/WS62f458d4a310fd2b29e718f0.html