【China Daily】Sanctions imposed on five US officials
Source:
China Daily
31-Dec-2021
Original link: http://www.chinadaily.com.cn/a/202112/31/WS61ce6f34a310cdd39bc7e800.html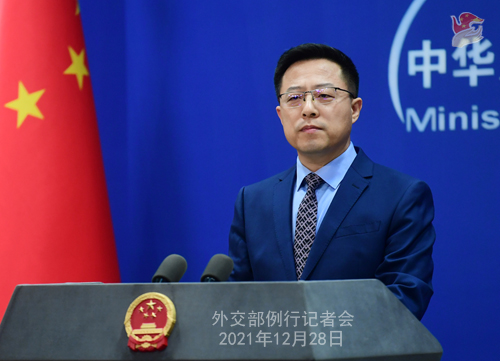 Five current and former United States officials, including former US commerce secretary Wilbur Ross, have been prohibited from entering the Chinese mainland and the Hong Kong and Macao special administrative regions, Foreign Ministry spokesman Zhao Lijian said on Thursday.
The bans are a result of China's countermeasures against recent US sanctions imposed on Chinese officials in Hong Kong.
The US officials' assets in China will be frozen, and Chinese citizens and institutions are prohibited from doing business with them, Zhao said. Previous sanctions imposed by China on US officials and entities for the US' "other erroneous activities" concerning Hong Kong remain in effect, he added.
"China strongly rejects and condemns the US act of imposing sanctions on Chinese citizens and interfering in China's domestic affairs according to its domestic law," Zhao said at a news briefing in Beijing.
China will continue to take all necessary measures to safeguard its national interests and dignity, he added.
On Dec 20, the US Department of State announced sanctions on five deputy directors of the Liaison Office of the Central People's Government in the Hong Kong Special Administrative Region, pursuant to its so-called Hong Kong Autonomy Act.
However, the officials were already among seven Chinese officials sanctioned by the US when it issued a so-called Hong Kong Business Advisory in July.
Zhao said that by announcing sanctions against these same individuals again, the US is attempting to contain China by hyping issues related to Hong Kong.
"This completely exposes the US' intention to undermine Hong Kong's prosperity and stability in the name of caring about Hong Kong's human rights," he said.
Li Haidong, a professor of US studies at China Foreign Affairs University, said that the US is bullying other countries with its long-arm sanctions based on its domestic laws.
"The countermeasures made by China are reminding the US to adhere to the basic norms governing international relations, such as mutual respect and noninterference in other country's internal affairs," he said.